Hey guys!
(íslenska)
Today I wanted to do a quick post about 5 things people (including me) frequently do, which we should try to stop doing.
Care too much about what others think
I think this is the biggest issue most of us have, not only related to beauty and style, but in life in general. Asking another's opinion is totally fine, but we have to remember that ultimately we're living our life for ourselves and no one else. Your opinion matters most!
Take another's word as the holy word
With the abundance of beauty bloggers, vloggers and social media people in the world it's easy to start thinking that you need every product every single person with a following talks about, but you don't. No one needs every single product ever made and not every product ever made will be right for you. Beauty is not once size fit all, and it's all about finding things that you like and that make you feel like a rockstar!
Tell others what to do
Now, don't get me wrong, I'm not talking about not giving out tips and tricks, I think that's great! I spend half my day online watching videos, reading articles and learning new things and that's amazing, but beauty has no rules! Not a single one! Saying "I like to do such and such and get such and such result as opposed to such and such" is different to saying "Omg you HAVE to do such and such because other vice you'll end up looking like such and such and that is NOT a good look"
Judge others
This one goes hand in hand with the last one. Just because you don't like a particular trend or style or anything you see another person wear you don't need to judge them. You don't even need to think about it, because guess what? It's not hurting you or anyone else. Everyone has the right to develop their own personal style without being judged.
Feel like you have to be something specific
When I was in the 9th and 10th grade, I liked to wear a lot of black eyeliner (I didn't really know how to apply it, but that's another story) and I felt like I couldn't leave the house without wearing eyeliner, because I felt like I'd established this personal style that I had to keep up, or else people would judge me or something (?). The moral of the story is that you don't have to put yourself into a box, you don't have to stick to the same style every day, you are still you no matter what makeup you're wearing.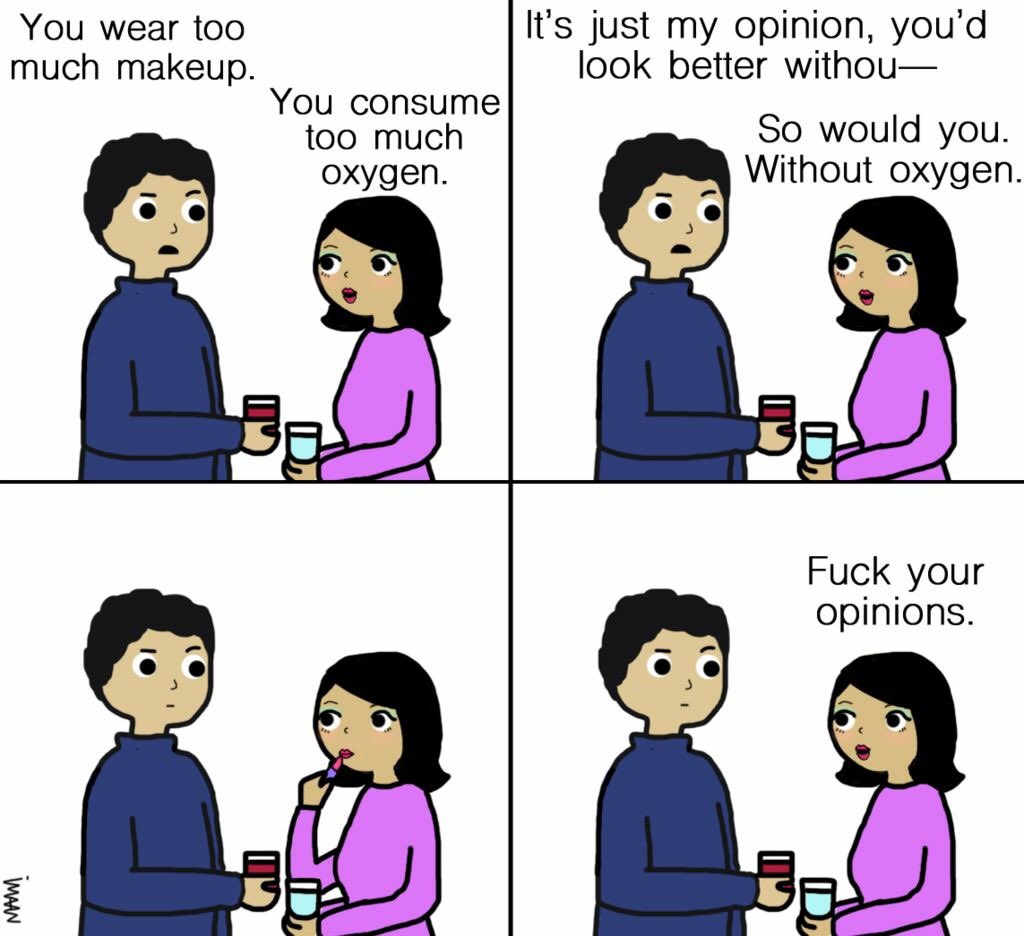 Hæ vinir!
Í dag langaði mig að tala aðeins um nokkra hluti sem við eigum öll til að gera og ættum að venja okkur af.
Pæla of mikið í hvað öðrum finnst
Þetta eru held ég algengöstu mistökin sem ég held að við gerum öll (allavega ég), ekki bara þegar það kemur að stíl og förðun heldur bara almennt. Að fá ráð og leita skoðanna annara er gott og blessað, en munum að við lifum bara einu sinni og við lifum okkar lífi fyrir okkur sjálf og engann annan. Þín skoðun skiptir mestu máli!
Taka orðum annara sem heilögum
Með allan herinn af bjútí bloggurum, youtuberum, snöppurum og öðrum er auðvelt að finnast að maður þurfa að eiga allt, en það er ekki þannig. Enginn í heiminum þarf að eiga allt og ekki allt í heiminum er að fara að passa þér, jafnvel þótt að uppáhalds bloggarinn þinn elski það. Förðunarvörur eru ekki "one size fits all" og þetta snýst allt um að finna vörur sem þú persónulega elskar.
Segja öðrum hvað á að gera
Nú er ég ekki að tala um að deila ráðum og kenna öðrum, það er frábært! En það er munur á að segja "mér finnst gott að gera svona af því að þá verður það svona frekar en svona" og "sko maður VERÐUR að gera svona því annars endar maður svona og það er HRÆÐILEGT lúkk!" 
Dæma aðra
Þessi mistök haldast í hendur við þessi fyrir ofan. Þótt að okkur persónulega finnist eitthvað ekki flott eða myndum aldrei mála okkur á einhvern hátt þá þurfum við ekki að dæma. Við þurfum ekki einu sinni að pæla mikið í því. Af hverju? Jú þetta er ekki að meiða neinn. Allir hafa rétt að því að vera eins og þeir vilja og þróa sinn persónulega stíl án þess að vera dæmdir.
Finnast þú þurfa að vera eitthvað sérstakt
Þegar ég var í 9. og 10. bekk þá gekk ég með mikinn svartann augnblýant (sem ég kunni reyndar ekki mjög vel að setja á mig, en það er önnur saga) og mér fannst ég ekki geta farið út úr húsi án hans, vegna þessa að mér fannst ég vera búin að búa till einhvern persónulegan "stíl" sem ég gat ekki bara svikið. Lærum af mínum mistökum og setjum ekki sjálf okkur í kassa! Við þurfum ekki að festa okkur við eitthvað sérstakt. Þú ert alveg jafn mikið þú sama hvernig þú lítur út. 
Until next time,
Margrét